Home
One-on-One Help

One Day. One Place.

Neighbors Helping Neighbors

Island Grove Park

North 14th Avenue and D Street, Greeley

Behavioral Health Assistance Financial Services Clothing Food Stamps Dental Care

Housing/Foreclosure Assistance Medical Care Veterans Services

Documentation Assistance (SSN, Colorado IDs) Employment (Resumé writing & job listings)

FREE Services provided onsite/ www.weldprojectconnect.org/ CALL 2TRTtREEE

tTREEWWEaaadadminad
TOWN OF LOCHBUIE PUBLIC WORKSHOP
SHARE YOUR IDEAS ON: ENTRYWAY PLANNING, WCR 37 STREETSCAPE DESIGN,
SIDEWALKS, STREET LIGHTS, LANDSCAPING, AND LAKE HENRY PARK CONCEPTS
PLEASE JOIN US ON TUESDAY, MARCH 11, 2014 FROM 6:00-8:00 PM
AT TOWN HALL BUILDING B, 703 WELD COUNTY ROAD 37
The Town of Locbuie has partnered with the University of Colorado Denver/Technical Assistance
Program to provide design assistance to the Town of Lochbuie.
---
The Town of Lochbuie will be holding a MAIL BALLOT ELECTION
on April 1, 2014
Candidates for Board Trustee (3 positions available) are:
MARTHA BRADFIELD, GRANT DOHERTY, MARDI EARLY, DAVID E. OTT & CANDACE M. VELDHUIZEN
Candidate for Mayor: MICHAEL A. MAHONEY
DUE TO THE RECENT PASSAGE OF MUNICIPAL ELECTION LEGISLATION
THE TOWN OF LOCHBUIE WILL NOW BE HOLDING AN ALL MAIL BALLOT ELECTION!!
ALL TOWN RESIDENTS WILL RECIEVE A MAIL BALLOT BY MAIL AND
WILL NEED TO RETURN BY MAIL OR IN PERSON TO THE TOWN CLERK.
For more information or questions contact Monica Mendoza, Town Clerk at 303-655-9308 or mmendoza@lochbuie.org
---
Candidate Forum
When: March 25, 2014 at 7:00 pm
Where: Lochbuie Elementary, 201 Bonanza Blvd
Why: This is an important event to attend to meet the candidates,
ask questions and be a proactive part of the process.
Moderator: Bob Grand, Editor of the Lost Creek Guide
---
LOCHBUIE TOWN MANAGER STEVE STAMEY
RECEIVES PRESTIGIOUS "MANAGER OF THE YEAR AWARD"
FROM THE COLORADO CITY AND COUNTY MANAGERS ASSOCIATION
HUGE CONGRATULATIONS TO STEVE!! AWESOME JOB!!
---

Click above for more info and vendor application
---
TOWN BOARD UPDATES:
Town Administrator Steve Stamey received the prestigious "Town Manager of the Year" award for 2013

Waste Management rate increase effective March 1, 2014. New rates per month: 32 gallon $8.85, 64 gallon $9.35, 96 gallon $9.86. Resulting in a 10-11 cent per month increase. All Town residents are encouraged to take advantage of the FREE recycling program Waste Management offers!

The Board approved scope of services with the University of Colorado for an entryway, CR 37 streetscape design plan, Lake Henry Park design plan and a Town Hall landscape plan. The Town will be holding a community workshops on Turesday, March 11th from 6-8pm to review design concepts

Candidate Debate on Tuesday, March 25th at 7:00 pm at Lochbuie Elementary

Save the date: May 17th for the Lochbuie 40th Anniversary Celebration
The Lagoons Project is close to completion, here are some pictures of the progress.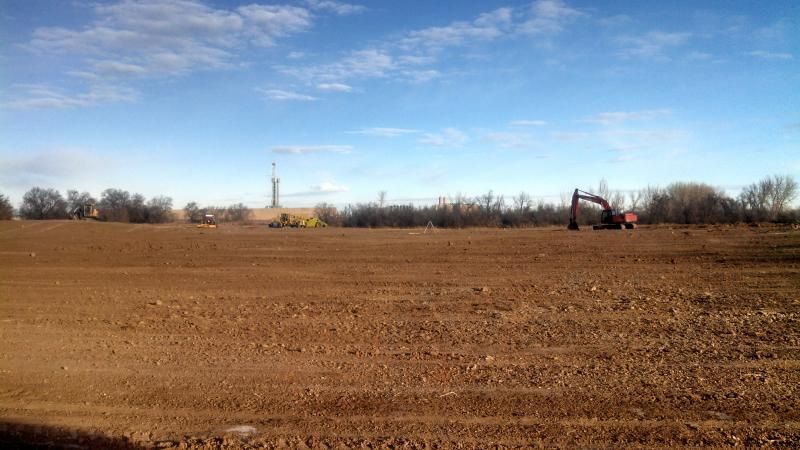 ---
TOWN BOARD MEETINGS:
1st & 3rd Tuesday of every month at 7:00 pm
PLANNING COMMISSION MEETINGS:
Meet on an as needed basis on the Last Tuesday of the month or as announced at 7:00 pm
Town Residents are invited and encouraged to attend!
---
Are you a major retail developer or retailer considering projects or locations in Lochbuie? Are you a new business considering locating in The Town of Lochbuie? If so,please contact the Town Administrator at 303-655-9308
for more information on The Town of Lochbuie, its advantages for retail development projects and its close proximity to the Denver Metro Area.
The Northeast East Colorado Small Business Development Center offers business, consulting and training that maximizes the economic potential of entrepreneurs within Northeast-East Central Colorado. Their mission is to foster successful start up of new businesses as well as growth and develpment of new and existing businesses through services provided.
Contact for the Small Business Development Center is Jesse Esparza at 720-837-0416. Please find below a link to the SBDC Website and their schedule.
---